Chinese investments in industrial and economic development of high technology have been gaining more strength in recent years. As part of this process, the Chinese government has increased the regulation of large national technological monopolies to redirect resources and advanced labor to the production of technologies, which the CCP (Chinese Communist Party) considers them essential for national development.
In this way, China aims at a diversification of domestic technological production so that its technology companies and startups invest in the production of "essential" technologies, the deep tech or deep technology; as semiconductor microchips production, Computation systems of data e cloud, artificial intelligence, quantum computing, and other advanced technologies that are being developed by major world powers, or that already exist, but are not fully produced in China.
It is a strengthening of the domestic market and production to become more advanced, independent and a reference pole in technology in the international geopolitical scenario.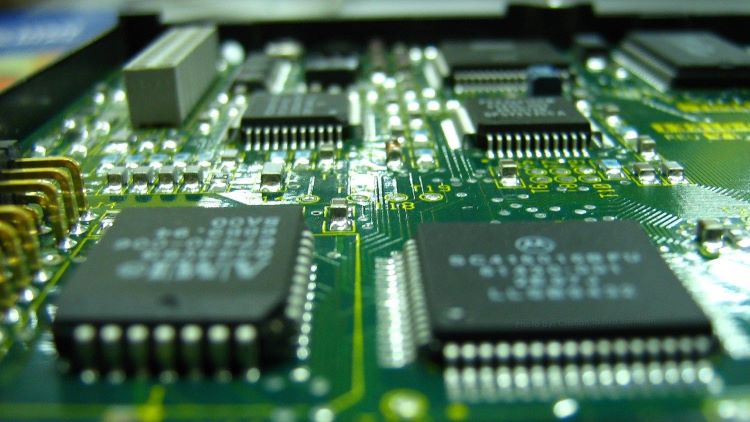 What is Deep Tech or Deep Technology and why it is important geopolitically
Technological innovations in the industry are increasingly being driven by nations, in a search for more sustainable and clean energies, an advance of computational knowledge and even more efficient artificial intelligences.
The deep tech is a cutting-edge technology, developed by startups or advanced technology companies with a goal of solving society's problems by technology research involving a lot of capital, by the complexity of the technological problem they are trying to solve, but low market risk, since the technology developed already has certain demand.
The spotlight for deep technology came from the needs that the pandemic brought us and the solutions it provided. An example of deep tech is the BioNTech and Moderna vaccine with the messenger RNA (mRNA) mechanism for immunization against COVID-19, a new technology with a lot of research and capital involved, but which brings innovation to science in the most serious health and humanitarian crisis of recent times.
For commercial relations, those who are able to invest in their development and innovation are able to participate in the market with their own protagonism, since they are new technologies and has a high demand. Investing in deep tech also brings a diversification to the domestic market because it moves the entire production chain, from researchers and intellectuals to large industries for chip production.
[Deep Tech is] "a technology difficult to develop in the present, but with a potential to become a basic, diffuse and easy-to-implement need in the future.".

Joshua Siegel and Sriram Krishnan, MIT Department of Computer Science and Engineering
The recent Chinese crackdown on technological monopolies and superficial technology focused to entertainment
The scenario that was being established in China was of large technology companies growing immensely and buying smaller and innovative companies to form a conglomerate of monopolies.
Alibaba, Tencent and Meituan were the large companies taxed by the government, on more than US$3 billion in total, to collect this income and use mainly in the creation of new deep tech startups.
These three main companies are focused on entertainment and online services, from purchase platform, video games to delivery. The main problem for the Chinese government's objectives is that, by forming these commercial conglomerates there is no diversification of the domestic productive market and dependence on imports of advanced technologies increases, since the national market is focused on more superficial technologies taking resources and manpower from the most fundamental technologies for national development.
China currently has a cost of US$410 billion in imports, mainly of semiconductors. From the current initiative, the investment budget in the Chinese cell phone system industry, computers, manufacturing of technological equipment in general is $ 135 billion, with the perspective of having a base with value of more than $ 5 trillion. The investment in startups in 2016 was US$15bn, rising in 2020 to US$60bn.
Alibaba, for example, is a company that has diversified only from the e-commerce and data to the current production of three types of microchips. Tencent also goes through the same process, diversifying from the entertainment market and games to produce chips for the domestic market.
This strengthens production but also limits the gain of influence that these monopolies would have over the government and society.
The government of the Communist Party of China has a concern with the time that its population spends in "superficial technologies" as in social networks and video games, creating even a limitation to under-18s to only allow one hour of videogames per week and on weekends/holidays.
This is an attempt to encourage the youth and the population to spend more time gaining knowledge and studying than consuming "superficial content", or called "spiritual opium" by the Chinese media. These young people are a potential of creation for the country and they can become great researchers and authors of innovations in the future.
Thus, these limitations that the government imposed on the population and companies is an application of its political objectives of diversification and independence of the internal market, in addition to encouraging the future and continuous development of technologies that can bring solutions to society, as artificial intelligence and quantum computing.
The 2nd Chinese cultural revolution to steer technological resources towards Deep Tech and thrive geopolitically
The Mao Era brought about major changes in Chinese social orders, including revitalizing communism in the 1960s to strengthen its government. Chinese President Xi Jinping's effort to bring deep tech to domestic production is being analyzed as the country's second cultural revolution, as it aims to make China a leading reference center in deep and cutting-edge technology worldwide.
Limiting the consumption of "Western excesses", such as social networks and video games, is a way to try to return with the creative and intellectual potential for investment in the internal market itself, and not further deepen the relations with technologies that, in the long run, do not bring as much productive return as the microchip industry, artificial intelligence, quantum computing, etc…
The final facet of China's campaign is a transfer of resources from internet companies to firms that can create tangible advances in technologies that the party deems less frivolous. This would represent a striking shift in Chinese economic governance, which since the 1990s has put rapid development and attracting foreign direct investment over all else. Under-regulated internet firms have been the prime example. Local officials lowered taxes and gave away land in order to attract the online giants to their cities and provinces.

The Economist
The main Chinese focus is on improving its supply chain the internal manufacturing of technology, creating an industrial-oriented investment fund for high-priority technology areas. In this way, they seek to invest more in quantum communication that will drive advances in technological research, since it is a new idea, still under development and may bring evolution to the world's technological environment.
Only in deep tech, mainly semiconductors, the expected investment is US$2 trillion until 2025. 22.000 chip companies were created, 35.000 data e cloud and 172.000 startups with public investment.
All this structural change in the Chinese productive environment is "The Great Leap Forward of China" to continue its path of economic prosperity and international politics, going after the overthrow of American hegemony.
"They have the market because their population is enormous, and have got the skills because they educate their people at universities around the world […] They will never allow anyone else to control their destiny and so they want resilience and not to be challenged."

The West Australian
The ultimate Chinese goal of this new cultural revolution toward advanced technological development is to create a new world economic order around China itself, causing it to overtake the United States and the rest of the West in economic and military terms, thus becoming the largest geopolitical power in the second half of the 21st century.