Russia's War in Ukraine caused Germany to increase its military budget.
The military strengthening of Germany will generate geopolitical consequences in Europe and in the world.
The United States will be able to increase its geostrategic and military focus on China with this "new" Germany.
Due to Russia's invasion of Ukraine, several alliances were shaken and a new configuration of International Relations has been presented.
International Relations in which we are inserted, which suffers the consequences of human relations, which have basic values ​​such as independence, security, order and justice.
After a greater military and political intervention by Moscow in the ex-Soviet Republics, we can observe the increasing German investment in military power for its own defense, which until now was seen as below the necessary.
Therefore, it becomes relevant to analyze this decision critically, from the reasons that guide it, as well as the main consequences for global geopolitics and geoeconomy.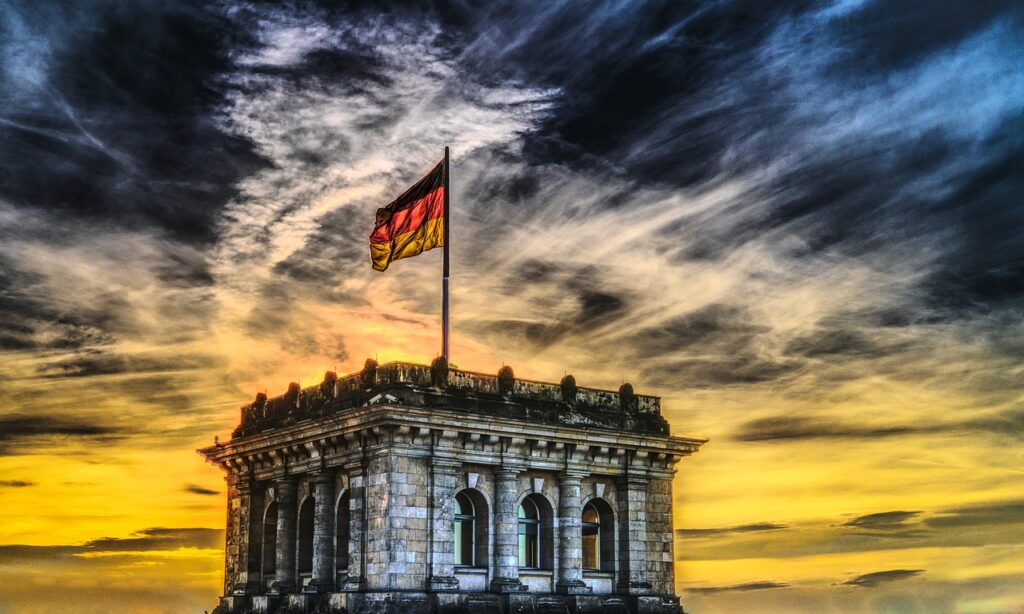 Why Modern Germany Didn't Invest Enough In Its Armed Forces
For at least three decades, it has been known that the Bunderwehr – the armed forces of the Federal Republic of Germany – has relatively little military equipment and, according to experts, the country would not have a force capable of defending German territory promptly.
Much of this pacifist German attitude is due to its historical past of the 1st World War, having as a consequence the humiliating Treaty of Versailles that imposed – among other terms – the country's ban on having a navy and war aviation; heavy artillery; promote military recruitment; and have an army of over 100,000 soldiers.
Subsequently, World War II Nazi Germany suffered consequences in restrictions imposed around defense spending and military activities – as did Japan -, when it had to accept the four "Ds" imposed by the allied powers: "denazification", demilitarization, democratization and disarmament.
However, observing the aftermath of the Russian invasion of Ukraine, German leaders and citizens began to think about a strategy to prepare for a potential conflict and to provide their armed forces in an improved way, what German Chancellor Olaf Scholz called " Zeitenwende" — a "tipping point."

Therefore, in order to defend its own territory, Scholz announced an increase in spending of 130 billion euros from the country's budget for 2022. For comparison purposes: in 2021, Germany's entire defense budget was about 47 billion euros. euros.

Germany as a member of NATO
According to US leaders, insufficient German spending on the military undermines NATO, an alliance that has been critical to the country's security for 70 years. This damages US-Germany relations, as the US country funds most of the alliance.
Even in Europe, some diplomatic representatives from countries in the region complain, in particular, of Germany's failure to fulfill its commitments and that this would be putting not only their own relationship with Washington at risk, but that of the entire bloc.
So this undermines Germany's credibility when it says it follows a robust and autonomous European security and defense strategy, less dependent on Washington.
Then, during the war in Ukraine, after much pressure from the United States and under accusations of being flexible with Moscow, Germany also suspended its Nord Stream 2 pipeline project with Russia and agreed to send weapons to Ukraine.
And while Germany believed it could achieve peace with Russia – or hope that the country would become a healthy democracy – through commercial transactions, and avoid wars because of commercial interdependence, it did not.

How the Russian invasion of Ukraine changed the German calculation in terms of military defense
The German objective of the policy change is to increase the country's defense spending to more than 2% of its GDP, up from 1.53% in 2021 and, despite being a target required by NATO, only about a third of the member countries actually achieved it in 2021.
The reborn German attitude of arming itself to defend its own territory, but at the same time without the intention of starting a war, is a perfect demonstration of the "security dilemma", very relevant in International Relations.
In short, it is a term of Hobbes, a realist theorist of International Relations that portrays when countries are equipped for war in order to provide national peace for their citizens, in a paradoxical way.
As an example of this theory, we can refer to the period of "Paz Armada", pre-World War I, which was a period of "peace", but in which many countries were heavily armed. So, given the Russian invasion of Ukraine, this concern has become part of the European agenda with more urgency.


How a new German military power can affect the strategic military balance in Europe and the world
Considering that Germany is Europe's biggest economy, the annual increase in defense spending would make the country the third largest spender on armed force in the world, behind only the US and China.
However, the Think Tank RAND Europe's leader in the defense and security program, James Black, points out that while the budget increase is large, it does not mean that an army will be strengthened.
Capital alone is not responsible for creating a highly capable army, and increased investment will not translate into an immediate increase in German military capability. According to him, "it takes time to spend money and acquire new weapons systems, and it takes time to train and develop forces capable of using these new systems."
Another important change in European defense would be the fact that Germany, as the third largest defense investor in the world, would become one of the strongest military forces in Europe alongside France, which is currently the largest military force in size in the European Union. . But Germany, even with this investment, would not have nuclear weapons like France.
This paradigm shift would also enable the United States to continue the transition from its geostrategic focus to Asia, especially to contain China as a major influence in the world, and leave responsibility for European security to Europeans.


The future trend of Germany's new militarization
One trend is that as long as the threat of an imperialist and expansionist Russia exists, Germany will likely continue to invest in its armed forces.
As a consequence of massive military investment, the specter of Nazi Germany will always exist, although it is unlikely that the country will acquire or develop nuclear weapons, as the US would certainly intervene.
When Russia as it is today ceases to exist for some reason – be it a collapse, a sudden political change or foreign intervention – Germany is expected to take advantage of the "peace dividend" and reduce its military investment.
However, while increased defense investment does not effectively mean that Germany will have a more capable Bundeswehr, it does not necessarily mean that Berlin is unwilling to do so and become an expeditionary force like the UK. or France (capable of sending ready-made troops for military interventions abroad).
The Russian and Chinese reaction to Germany's announcement largely depends on the position they intend to take in the International System, as well as the outcome of the war in Ukraine.
Finally, German military strengthening could end up increasing European defense and military sovereignty and contributing to a growing ideology of a European Defense Union, making the bloc increasingly autonomous and distant from its current dependence on NATO.